Different Types of Batteries for TENS Units: 9v, AA, & More
Posted by DOUGLAS MOSS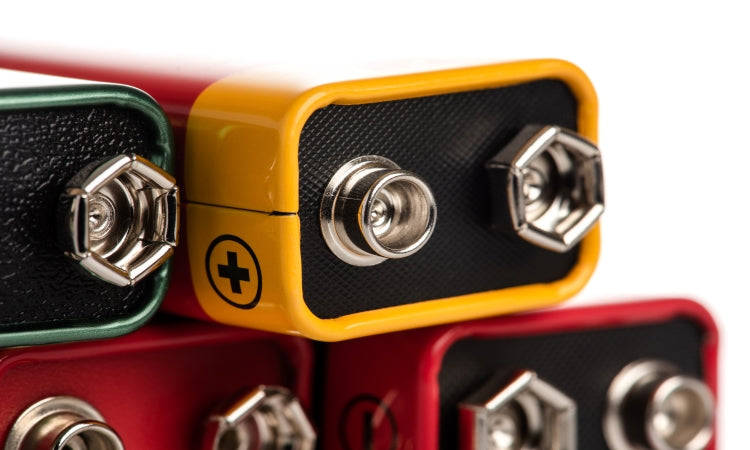 Different Types of Batteries for TENS Units: 9v, AA, & More
As anyone who has personally used a TENS unit can attest to, they're not much use without a charged battery! Most modern TENS units intended for personal use are battery operated to allow for maximum convenience and portability. Many users who experience chronic pain opt to carry their unit on the go for treatment wherever and whenever it is needed. This is made possible by the portable power source, the batteries. That being said, not all TENS units use the same types of batteries. The most common types of batteries for TENS units are 9v batteries, AA batteries, and lithium-ion batteries.
9V Batteries for TENS Units
The most common type of batteries for portable TENS units are 9V batteries. Two of our most popular units, the TENS Unit 3000 and the TENS Unit 7000 are both powered by 9V batteries. Though we cannot entirely speak to what may be available from other retailers, our research has shown that quite a few of our competitors also sell units that take 9V batteries. One convenient trick for using a TENS unit that operates on 9V batteries is to upgrade to a 9V that is rechargeable. Our dual 9v battery charger can charge two of these batteries at a time to ensure that one is always ready!
AA Batteries for TENS Units
Many portable TENS units take AA batteries, though this is less common than units that run on 9v batteries. One convenient thing about using a unit that operates on AA batteries is that many people already have them on hand. From TV remotes to wireless computer mice, there is a myriad of common household items that use AA batteries, making them a staple in most homes.  One of the most popular units powered by AA batteries is the Ultima 20 Digital TENS unit. This compact and highly portable TENS unit is incredibly user-friendly with its digital interface.
Lithium-Ion Batteries
Lithium-ion batteries are supremely convenient as their easy rechargeability makes them ideal for long-term usage.  Any units on tensunits.com that operate on lithium-ion batteries will come with one included, meaning that there is no need to purchase one separately unless a backup battery is needed. The most popular unit powered by a lithium-ion battery is the Omega Professional TENS & EMS Combo Unit for Ultimate Pain Relief. This versatile unit provides both TENS & EMS relief all while running off of the 9v battery that can be easily charged utilizing the included AC adapter! Please note that not all lithium-ion batteries are made the same. For example, the  Ultima Neo Tens Unit (which is no longer carried here at this time) utilizes a unique lithium-ion battery with slightly different construction and batteries should NOT be exchanged between different TENS or EMS unit models.
Charge it Up!
If you find that TENS or EMS units have been beneficial to your quality of life and you feel the need to utilize such a unit on a daily basis, it's important to remember to always have batteries on hand. The last thing any sufferer of chronic pain wants is to end up having to grit their teeth and bear their pain simply because their TENS unit's battery is dead. Here at tensunits.com, we aim to be a one-stop-shop for all of your TENS and EMS unit needs. Check out our great accessories and buy your TENS unit batteries with us today!
Collection 2019
Sale 70% Off
Title for image