Omega Wireless TENS/EMS Combo Unit for Pain Relief
Posted by ELIZABETH CARROLL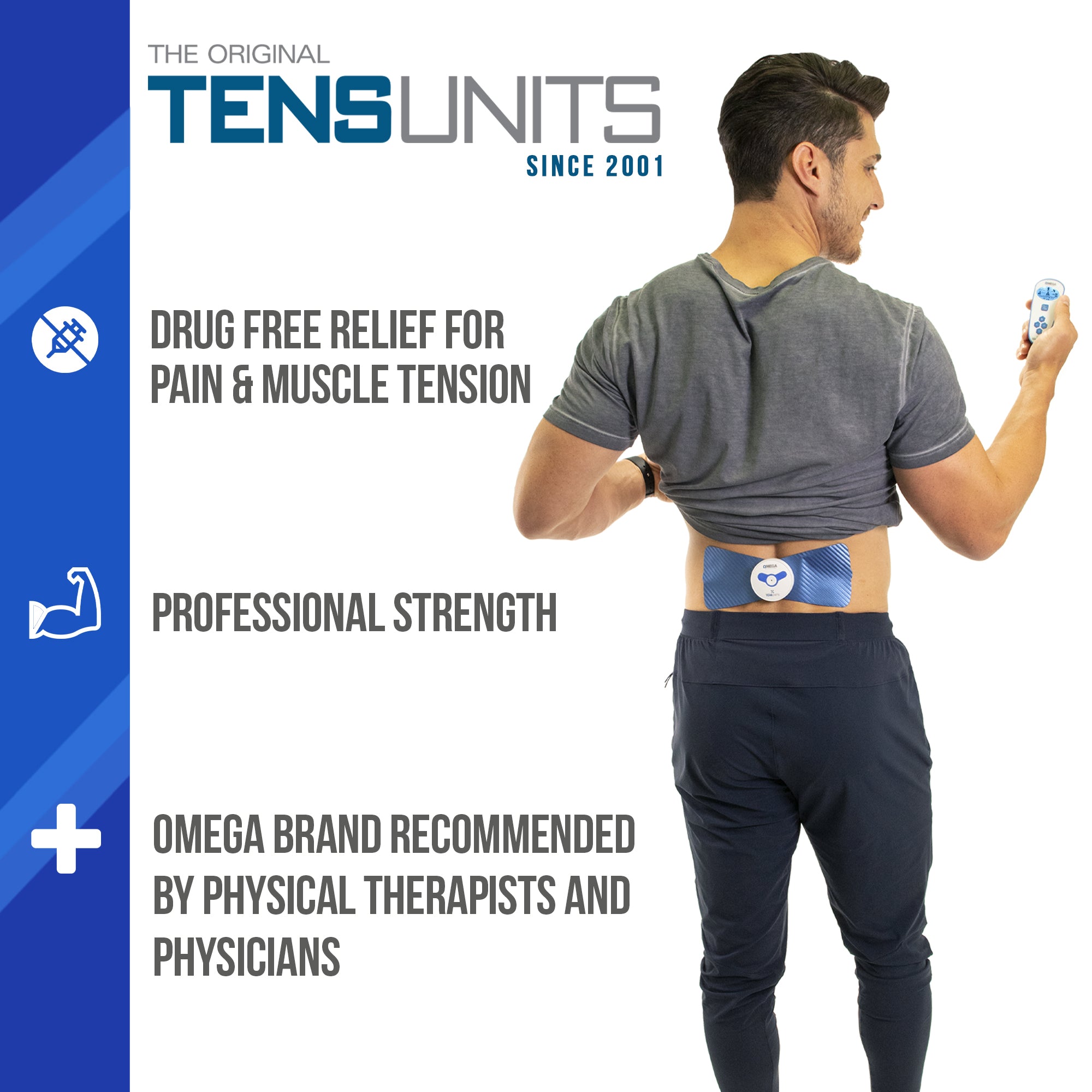 At some point in our lives, we are bound to experience muscular pain in different parts of our body.
Made by The Original Tens Units Company, a trusted brand since 2001, this versatile wireless massager uses the powerful combination of TENS & EMS therapy to help you to manage pain when it hits.
How TENS and EMS Work
A TENS (transcutaneous electrical nerve stimulation) unit creates a low-voltage electrical current that travels through electrodes and into the skin in pulses, stimulating specific nerve pathways to produce a tingling or massaging sensation that reduces the perception of pain.
The electrodes are placed at specific sites on a user's body depending on the physical location of their pain. Intensity can then be increased or decreased by controlling the voltage. current, and duration of each pulse.
Similarly, an EMS (electronic muscle stimulator) is designed to provide relief by directly stimulating the muscles themselves. Best results are achieved when the user is active, as opposed to sitting, resting, or laying down.
When used as directed, these electronic muscle stimulators are a safe, non-invasive, drug-free method of pain management. Simply put, a TENS/EMS unit offers a better quality of life for people who live with chronic pain.
This Professional TENS/EMS device is FDA Approved and has a wireless remote control that will allow you to control your device without having to deal with the hassle of tangled wires!
Features
COMPLETE MUSCLE PAIN MANAGEMENT: The Omega Wireless TENS/EMS Combo Unit is used by countless medical professions, and now by many people at home, as an effective, drug-free, and non-invasive pain control therapy method. Use it where you're experiencing pain or muscle spasms such as your upper & lower back, neck, knees, shoulders, ankles, legs, wrists, and elbows.
This remote-controlled massager is an invaluable addition to your battle with chronic pain.
6 MODES OF MASSAGING: With the pain relief pulse massager you can now apply pressure on the targeted areas using 6 specially designed modes. Place the pads and adjust the modes to focus on either your arms, shoulders, upper back, lower back, knee, or neck. The remote control pain relief massager allows you to manage the intensity of the pressure to match the intensity of your pain.
COMPACT, WIRELESS & PORTABLE: The size of the TENS massager kit is small enough to make it convenient for you to carry wherever you go, for instant pain relief. With ample rechargeable battery life, you won't be running out of power anytime soon.
The digital display makes it easy to select a body part, program the unit, set a mode, and adjust pulse settings.
·         2 REUSABLE ELECTRODE PADS: The massage pads that you get with the muscle stimulator are gel pad electrodes. They are latex-free to reduce skin irritation. These high-quality TENS/EMS pads have superior construction with high conductivity for easier use. The size of the large electrode pad is 8.5" x 3.5" and the size of the medium electrode pad is 7" x 3".
Our Premium Omega TENS massage kit includes:
1 host device
2 reusable gel pad electrodes
USB with charger
LED screen wireless remote control
2 AAA rechargeable lithium batteries (for the remote)
Zipper bag for electrode storage
Everything you need in one complete TENS/EMS pain relief package for managing pain, soreness, fitness recovery, injury rehabilitation, stiffness, and more!
Order your Omega Wireless TENS/EMS Combo Unit today and say goodbye to chronic pain!
Please note:
If you purchase the Omega Wireless TENS/EMS Combo Unit without a remote, the remote is not sold separately and therefore cannot be purchased individually at a later time.
Collection 2019
Sale 70% Off
Title for image