Isolation Fitness Tips & Using EMS for At-Home Workouts
Posted by DOUGLAS MOSS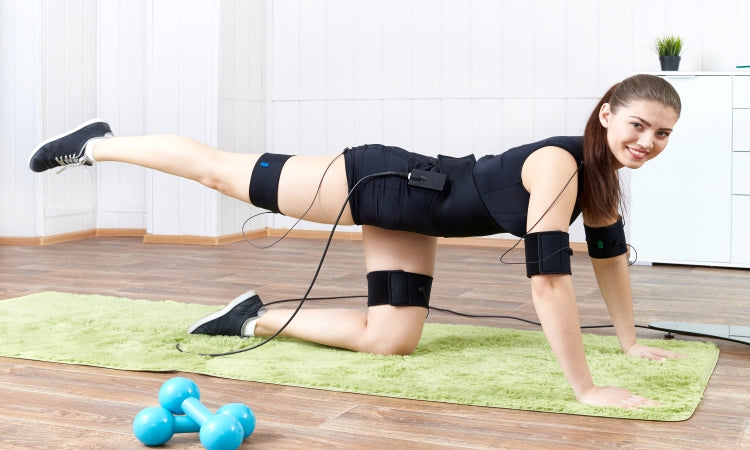 Isolation Fitness Tips & Using EMS for At-Home Workouts
Many are finding themselves with more free time than usual due to the growing cautions against large group gatherings amidst the COVD-19 dilemma. Precautions have been taken across the globe that has restricted access to many public facilities, namely, gyms. Without a gym to go to, many have found themselves without access to the workout equipment to which they have become accustomed. Even still, creating social distance through self-isolation to help fight back against the coronavirus is no reason to deprive the body of the exercise it craves! It's easy to achieve a full-body workout at home and using an EMS unit can help to compensate for the lower intensity of an at-home workout. Today we'll cover the basics of how an EMS unit can help to increase workout intensity as well as our top tips for staying fit at home including following online fitness regiments and making the best use of the existing space and objects available for use at home.
What is an EMS Unit?
Electrical Muscle Stimulation, or EMS, is the process by which electrical impulses are used to cause muscles to contract. The goal of EMS treatment, whether it be for athletes, bodybuilders, or physical therapy patients, is to strengthen muscles through alternative means rather than utilizing traditional methods. There is value in using an EMS unit on its own, but maximum results come from combining EMS treatment with an effective workout regiment. An EMS unit can actually be used during workouts to maximize results! Those stuck at home due to mandatory or voluntary social distance and self-isolation directives may benefit from utilizing an EMS unit as, in some cases, it can help to compensate for the lessened intensity of at-home workouts without equipment.
The Internet as a Fitness Resource
Perhaps the silver lining in this situation for those who are unable to leave home is that the modern age of technology enables the world to stay connected even when interacting face-to-face is no longer an option. The internet is a fantastic resource for fitness advice. In fact, there are entire workout tutorials and regiments available at the click of a button! We highly recommend using social media to find tips from professional fitness instructors and dedicated fitness enthusiasts. Youtube is a true treasure trove of free workout materials just waiting to be accessed. Looking to take a yoga class from the comfort of your own home or simply view the proper technique for doing crunches or situps? There's sure to be a video available to ensure that anyone can expand their workout repertoire from the comfort of home to achieve an easy full-body workout.
Making the Most of At Home Resources
Certainly, not everyone has a gym set up in their own home, but this does not have to be a barrier to a great workout. In fact, many workouts can be done from home either requiring no materials or using common household items. For example, lunges are a fantastic exercise to get a great lower body workout and engage the calves and thighs. All that's needed for lunges is a space large enough to take a few steps in. Hallways, living rooms, or anywhere with open and even floor space will work great! Those looking for a full-body workout at home might opt to do squats while holding a weight to engage the arms as well. No weights available? No problem! Try grabbing a heavy dictionary or thesaurus off the shelf and make the most of the resources available!
Stay Safe, Stay Healthy!
The most vital resource for staying in shape is starting with a healthy body! For this reason, it's important to follow best practices in regard to social distance and self-isolation in areas where stay-at-home orders or directives have been given. Give yourself and your loved ones the gift of health and safety by choosing to work toward your fitness goals at home instead of going out. With such great tools available, such as EMS units for enhancing workout intensity and fantastic online fitness resources, it's easy to stay in shape and get a full-body workout at home!
Collection 2019
Sale 70% Off
Title for image