How to Use an Omega Touch Pro TENS Unit
Posted by JON KOVACH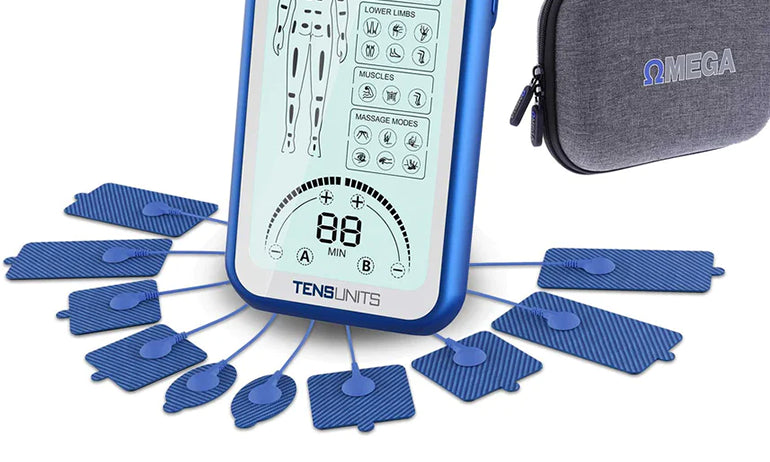 Read the article below, or watch the video
Before using your TENS unit, it is important that you read all the warnings and precautions, starting on page 2 in your User Guide and the Warnings section on the Quick Start Guide.
1. Snap the circular end of the OMEGA lead wires on to the metal pins on the electrode pad.
2. Before you attach the lead wires, make sure your TENS unit is completely OFF.
Push the lead wires into either output socket, located on top of the device.
3. After setting up your TENS unit, the next step is to attach the electrodes to your pain area.
Clean off the area of pain with a wipe, to remove all excess oils or lotion from the skin.
4. Gently peel off the electrode from the plastic sleeve, using the tab.
5. Press the electrode pad down on the skin to secure it.
6. To power on your TENS unit, press the power button on the side of the unit.
7. The Omega Touch Pro has two modes - TENS and EMS.
TENS stands for transcutaneous electrical nerve stimulation and is best used to treat areas of pain, by stimulating the nerve pathway around the affected area.
EMS stands for electrical muscle stimulation and is used to treat muscle injuries by sending pulses and working directly on the affected muscle area.
When in the TENS setting, there are 4 modes or body parts as shown on the screen, and within each mode there are 3-5 different mode settings. 
There are 15 total modes for TENS. 
When in the EMS setting, there are 2 modes or body parts as shown on the screen. 
Within these 2 modes, there are 3-6 different modes, providing a total of 9 different mode setting for EMS.
8. The LCD is a touch screen, so you can tap the screen to change anything on this device.
You will notice the body parts blinking on the screen, when you are in that setting.
The body part treatment modes are interchangeable and can be used on any body part.
These modes are recommendations.
9. On the left side of the device, there is a lock button.
You cannot change modes or intensity if you are in the lock setting.
You will notice an icon in the top left corner, indicating you are in the lock mode.
10. To increase or decrease intensity, press the + or - buttons on each side of the device, depending on which channel you are on.  
You can also tap the + or - icons, on the bottom of the LCD screen.  
You will see an intensity bar for each channel. 
11. To set the timer, tap the time at the bottom of the screen, to adjust the length of treatment in 10 minute increments.
12. When you're done using your TENS unit, press and hold down the power button for 2 seconds, and the unit powers off.
Watch the Video Below:
Collection 2019
Sale 70% Off
Title for image