Different Types of Back Pain That Can Be Eased with a TENS Unit
Posted by JON KOVACH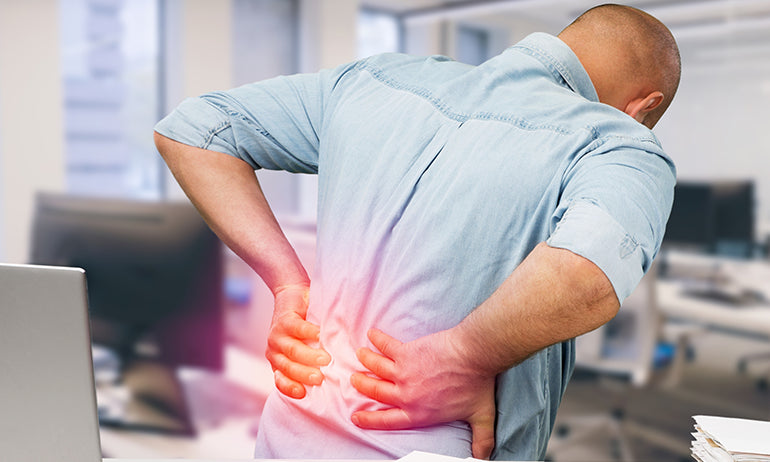 Back pain of any kind is one of the most debilitating ailments that afflict a majority of the population. It's such an issue that roughly 65 million Americans suffer from some type of back pain. While there might not be a specific diagnosis for this, there are usually underlying issues causing the discomfort.
With so many people being affected by this issue, we're going to cover the different types of back pain that can be eased with a TENS unit.
TENS Therapy for Back Pain
TENS stands for Transcutaneous Electrical Nerve Stimulation and works to treat back pain by sending out pulses to stimulate the nerves and trigger the body to produce endorphins, the body's natural pain killers. Using a TENS unit to treat chronic or acute back pain has been proven to be an effective, drug-free way to manage pain.
Nerve (Sciatica)
If you're experiencing a radiating pain from the lower back, down to the buttocks and leg, you are suffering from nerve (sciatica) pain. Most people with herniated or bulging disks have sciatica, but this can also be a result from trauma to the back or certain medical conditions of the spine. If it's a sharp pain, it can be worsened by bending, lifting, or squatting a specific way.
We recommend the TENS Unit 3000 for sciatica. You can select C on the timer, and this allows you to experience a continuous treatment mode that does not shut off after a specific amount of time.
Muscular (Strains and Sprains)
If you've strained your muscles or sprained any ligaments on your upper or lower back, you're more than likely feeling a chronic "ache" that is worsened with movement. This type of back pain can be caused from an active lifestyle, job, or athletic and strength training.
You might experience spasms with or without movement, which is more of an acute, muscular pain. Our Omega Ultimate Pro Tens & EMS Combo Unit for Pain Relief is the best unit to help treat muscular back pain or injuries.
The different modes for the back provide both TENS (Transcutaneous Electrical Nerve Stimulation) and EMS (Electrical Muscle Stimulation) treatment. If you're using EMS on the device, that will provide a massage to the affected muscle areas, to help reduce inflammation and pain. 
Bone and Cartilage
Those who suffer from bone or cartilage pain may have a medical condition or fractures on the spine. While this is not the most common type of back pain, the cause of bone fractures is related to osteoarthritis, which is a gradual deterioration of cartilage in the spine that makes it more likely for these fractures to occur. 
Many people suffer from osteoporosis, which causes the bones to weaken and become more fragile, thus increasing the risk for fractures and injuries. The pain is chronic, and those who have these conditions describe a constant "aching" pain that lasts throughout the day and night. 
If you're experiencing this type of pain, we recommend the Omega Wireless TENS Unit for Pain Relief. The included butterfly electrodes cover a larger area on the back, and it's easier to wear a wireless unit for longer periods of time and use the remote for easy control of the settings.
While our suggestions have been compiled from years of experience with TENS units, extensive research, and customer feedback, we always recommend consulting with your doctor or therapist for a recommendation on which unit will be best for you.
Sources
https://hpi.georgetown.edu/backpain
https://www.mayoclinic.org/diseases-conditions/back-pain/symptoms-causes/syc-20369906
https://cornerstonephysio.com/resources/5-types-of-back-pain/
https://www.spineuniverse.com/conditions/back-pain/what-hurts-types-back-pain
Collection 2019
Sale 70% Off
Title for image